March 7 — Third Sunday in Lent — Rev. Jennifer Whipple
Lessons from the Wilderness:
"Responsibility & Accountability"

The Israelites spent 40 years in the wilderness trying to navigate their way through to the Promised Land. They weren't just navigating to a new physical location, though, they were navigating through and to a new communal and faith landscape as well. They were learning along with one another what it meant to be a new kind of community and to follow the one God. It was countercultural then, just as our faith is countercultural today. So how did they do it? How did they know which direction to turn? How could they stay honest and true during that time of unknown and unknowing? They relied on God, their leaders, and each other to make it through with the guideposts laid out for them - signs, visions, and some very practical standards. One set of those standards was the 10 Commandments we read about in Exodus 20. What does this story have to teach us today? Come explore with Pastor Jen as she shares a message about "Responsibility & Accountability."
This is a Communion Sunday as well, so please feel free to gather whatever elements you might have available to join with us at the table of grace this week. We welcome Mary Gallagher-DeLucia as our scripture reader and Jim Sugden with a message from our Stewardship Committee. There will be a beautiful encore anthem, "Be Thou My Vision", from our Chancel Choir and lovely piano music for meditation and Communion shared by Toni Sullivan. You can also join us for our weekly Kids' Worship service with a message from Pastor Jen.
In Person Prayer Meeting - Sunday, March 7th at 9:30am
We will join together for in person
Indoor Prayer Meeting this Sunday
as well
-
following all CDC guidelines for safe gatherings during this time.
You will find the SIGN UP link below. We ask that people who are intending to join us for In Person Prayer Meeting sign up by noon on Saturday
so we can determine the appropriate format. If there is a large group within guidelines, we will meet in the Meetinghouse with a more traditional service. If there is a small group registered, we will plan to meet physically distanced in Brooks Hall for a time of scripture, reflection, and prayer. We know there are some among our church family members who are craving physical presence in our church and with one another, so we hope that you will join with us if you are able.
You can register for In Person Prayer Meeting by clicking this link:

https://www.signupgenius.com/go/5080C4CA8AF28A4F94-930am8
**Note: We ask that you sign up early (by 12noon on Saturday) in case there is a need to be in touch with those who plan to attend, especially due to the winter weather.


Dear Friend of SERRV,
Thank you for your continuing support of fair trade at SERRV International this spring!


Shop from

serrv.org?a=CCBSERRV
, and all proceeds go directly to SERRV.
PLUS: Use promo code SESPRING21 for FREE SHIPPING on orders $50+
when you place your order March 3-17*. Be sure to check out SERRV's
popular Easter collection— this is the perfect time to send an Easter gift
to a loved one. Feel free to share this sale with family and friends!
Happy Shopping!
Linda, Karen and Marie
*Personal orders only. Chocolate, Final Sale, Extra Large Baskets, Gift Cards, and Donations cannot be used to meet the $50 minimum. Our custom web link must be used (check for the orange banner confirming our fundraiser) and promo code must be entered at the time of the order, and neither can be applied after the order is submitted. Select free ground shipping as the ship method during check out.
Lenten Devotional 2021
As we enter into the season of Lent we wanted to send along the Lenten Devotional guide that our Deacons and Stephen Ministers created for our church family. There are devotions for each day of the Lenten Season and Holy Week, as well as scriptures for the Sundays during Lent. These are devotions that have special meaning to our Stephen Ministers and Deacons from various sources, as well original ones written by some of them as well. All are meant to help us explore the lessons we have learned from the wilderness of this last year and as we head into the Lenten Season. We are grateful to our Deacons and Stephen Ministers for their hard work on compiling these devotions for us.

Click

here
to read or download a PDF copy.

Pastors Fund Thanks & Information

Our pastors wish to thank you so much for your generous support of the Pastors Fund during these difficult and ever-changing times. With your help bills have been paid to cover housing costs, medical bills, and emergency repairs as well as to cover other everyday costs like food, gas, and clothing for members & friends of our church and wider community. The Pastors Fund is supported through the honorarium from the funerals/memorials that our pastors officiate, as well as through the generous gifts of members and friends of our community. The Thrift Shop has supported the Pastors Fund with gifts from sale profits, and the Pastors Fund is also one of the options for holiday support through our Virtual Giving Tree this year.
If you are feeling moved to make a direct gift to the Pastors Fund,
gift cards for groceries and gas
are always welcome, as are
donations made payable to Pastors Fund
.
Note from Stewardship Committee
We may not be meeting together these days, but your church is still here, hoping to meet people's needs, whatever they are. We are still the church – looking for ways to be God's hands and feet in the world around us, even when we are not together on Sunday mornings! SO….
Utilities + office supplies = YOUR CHURCH
Payroll + Sunday School supplies = YOUR CHURCH
Committees + building repair = YOUR CHURCH
Supporting needs around us + uplifting music = YOUR CHURCH
Choirs + internet and phone service = YOUR CHURCH
Please continue to give to our special church in whatever way you were used to giving before, if you are able, so that your church will be there for you, throughout this crisis, and beyond!
Your Pastors are Here for You!
Pastoral Care Appointments

Both Pastor Bryn and Pastor Jen are also available for individual pastoral care appointments as well either via phone or Zoom. In fact, their cell phones and the Church Zoom have gotten a lot of mileage this way since our time of quarantine began! If you have something that you would like to address or speak with one of the pastors about, please feel free to reach out individually to Pastor Bryn (

bryn@uccb.org
or 510-847-4235 cell #) or Pastor Jen (

jennifer@uccb.org
or 203-510-4760 cell #) to set up a time to talk and pray together.
Note: Your pastors are trying to take their days off, with "electronic sabbaths," on Wednesday (Bryn) and Friday (Jennifer), so you may not receive an immediate response if you send an email on one of those days.
Worship Opportunities
Friday Morning Meditation
Join Pastor Bryn on
Friday from 7-7:30am
on Zoom to spend some time in centering prayer and meditation. This 30 minute virtual opportunity is a great way to start your day with some scripture, meditation and reflection.
Please email Pastor Bryn at

bryn@uccb.org if you would like to join, and the link will be sent to you via email.
Labyrinth & Children's Garden:

One of our confirmands recently cleaned over at our Labyrinth - making sure the path is clearly outlined and instructions for use of the labyrinth are posted at the beginning. We encourage people to stop over to the church and use the labyrinth during this nice weather (while maintaining physical distancing practices). (Note: Our Labyrinth and the story of how it came to be were recently published in a book of New England Labyrinths, so we are excited to share that with people in our area and beyond.) Work will also begin soon on our Children's Garden, a garden that will be planted in raised beds around our Labyrinth, where kids will be able to remember loved ones and go to play and pray at our church.

Keep an eye on your email, the Congregational Church of Brookfield Facebook Page, or our website on Sunday morning for the links to join us (and please feel free to share the links with family and friends).
Afterward, if you are willing to share a photo of you or your family worshipping with us online that may be used on our CCB Facebook page or website, please send it to

uccbsocialmedia@gmail.com
.
If you have missed any of our online worship services you can find them linked below, and you can subscribe to our YouTube channel

uccbvideo
, where our worship services are archived.
CHURCH OFFICE HOURS
The Church Office is generally open Monday-Thursday from 9am-1pm. If you have a need to stop by the office in person, we ask that you call ahead (203-775-1259) to ensure that Jeannine McCullough, our Office Administrator, is expecting you. Please ring the doorbell and wait for the door to be answered and plan to wear a mask when you stop by the Office.
NOTE: Our phone system also allows you to leave a private voicemail message for the Office or a member of our Church Staff, which is automatically forwarded to staff email addresses as well.
Know that "No matter who you are or where you are on life's journey, you are welcome here!"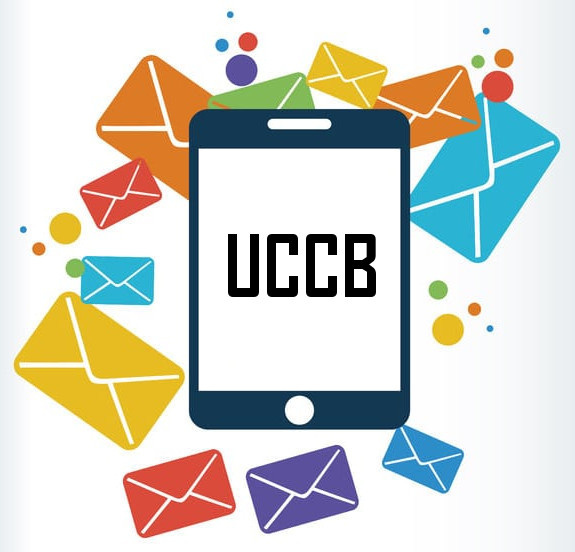 To be added to our church "blast" email list and receive the most current updates, just contact our church office administrator, office@uccb.org.

For the Pastor's Weekly electronic devotional, write the church office manager, office@uccb.org, to be added to the mailing list. For past devotionals, Click

here.

At Home Electronic
Worship
Options
Watch on Spectrum Channel 192
The previous week's service is on Sunday Mornings at 10:30 am, and Tuesday at 5:00 pm.
Listen to Podcasts of previous sermons
Click on:


https://soundcloud.com/user-98392082
No special equipment needed.
Congregational Church of Brookfield
Listen to the Congregational Church of Brookfield's

PODCAST.
Don't have time or an internet video connection?
Subscribe to our podcast and listen on the go to past sermons.
Click on:

https://soundcloud.com/user-98392082
or click on the fish logo.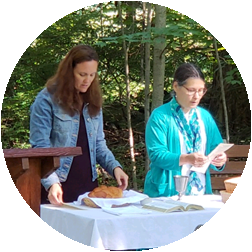 Sunday Worship
Links for pre-recorded worship services are being posted by 8 am each Sunday on this website. Church School and children's music classes for pre-K thru 8 are being offered through Zoom. Please email office@uccb.org for more information, or to enroll.


The above clip and many more from The Media Team are available online. Search "

uccbvideo" at

YouTube.com or click on the image.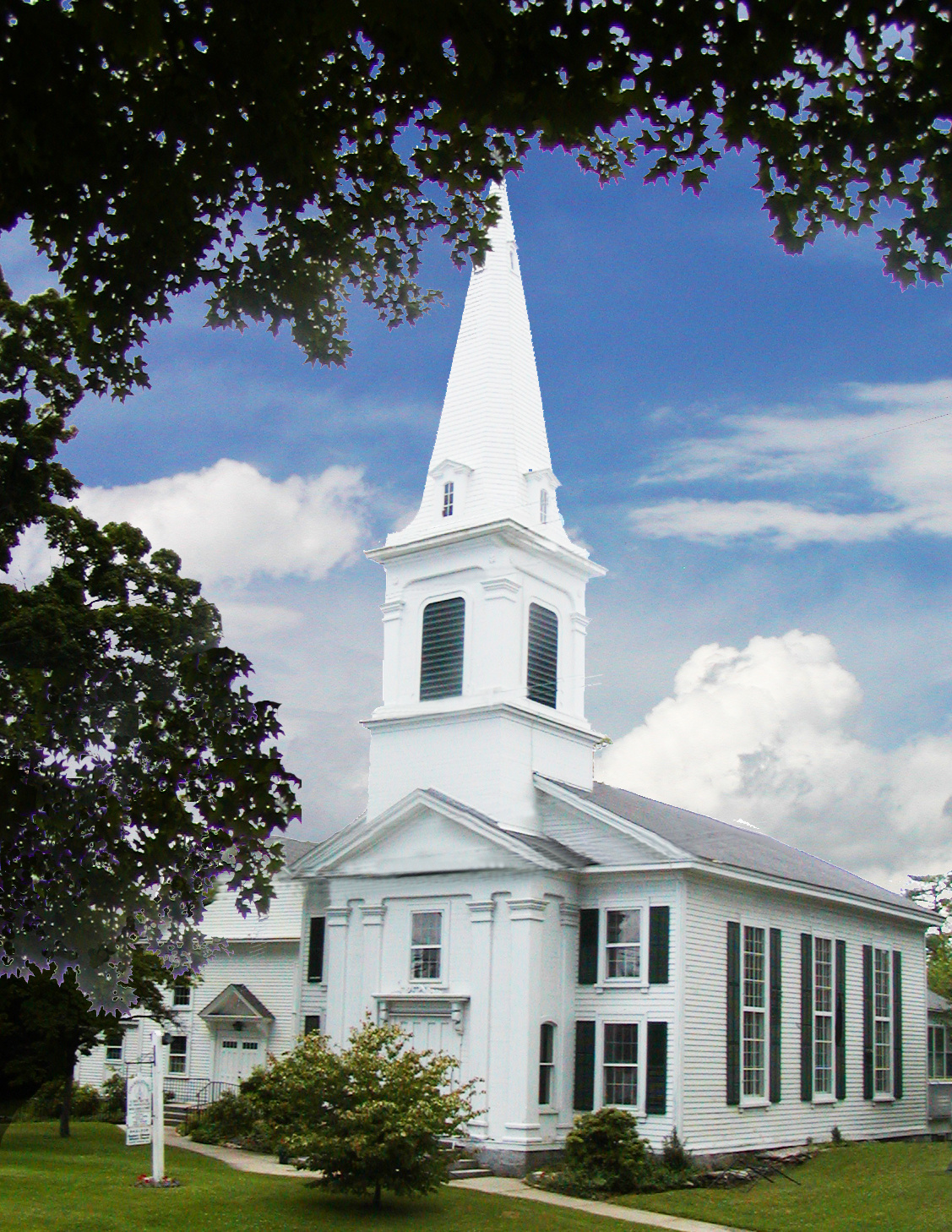 We hope our little white-steepled meetinghouse will become a weekly refuge for your soul -- where you can join us to share gratitude and wonder for your life, and learn to use ancient spiritual resources to wrestle with your questions about the greatest mysteries of the universe.
We invite you to attend every week, and to invite your friends to join you.
YOUR QUESTIONS ARE WELCOME HERE!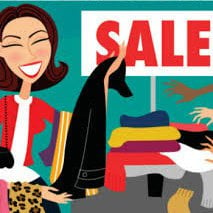 In following community public health guidelines, we are suspending all in-person Sunday church services , activities, study and fellowship groups, meetings, and outside users.
Visit the CCB Thrift Shop twice a month thrift shop to support the church wider missions.
The thrift shop is normally open the 1st and 3rd Saturday each month from 9AM to 12PM at the CCB Parsonage. Park in church parking lot and enter through the front door.

Would you enjoy the guidance of fellow seekers to help you support your children's growth into strong and compassionate moral thinkers?
Are you looking for a place where you can bring your deepest joys and sorrows and find real companionship in celebration and suffering?
Do you long for a place where you and your family can learn to love one another and care for the world in a compassionate faith community?
Watch this space for more information about our programs and ministries in the future.

As always, we also care about your spiritual health, so know that although your pastors are working mostly through remote connections, we want to respond to your needs and concerns promptly. Be aware, however, that may not always be possible. Our church phone system delivers your phone messages (to 203-775-1259) to our email, or you can email us directly at Bryn@uccb.org or Jennifer@uccb.org.

Let us continue to reach out to care for one another, and pray for one another and our world, as we face this global pandemic together, remembering the Apostle Paul's powerful affirmation of faith in these verses from chapter 8 of his Letter to the Romans:
31What then are we to say about these things? If God is for us, who is against us? 35Who will separate us from the love of Christ? Will hardship, or distress, or persecution, or famine, or nakedness, or peril, or sword? 37No, in all these things we are more than conquerors through him who loved us. 38For I am convinced that neither death, nor life, nor angels, nor rulers, nor things present, nor things to come, nor powers, 39nor height, nor depth, nor anything else in all creation, will be able to separate us from the love of God in Christ Jesus our Lord.